Prevent Isolation and Improve Staff Recruitment
In the last 50 years, technology has rapidly changed the world and made communication and socialization much easier for people of all ages. These advances can prevent isolation, bridge the gaps between generations and improve recruitment and training of our labor force in senior living communities.
According to Traci Taylor-Roberts, President of Sodalis Senior Living in San Marcos, Texas, we can leverage technology and social media to improve meaningful engagement in senior living communities.
Learn more in this guide about resident engagement, technology and social media.
Fill out the form on the right to get this guide!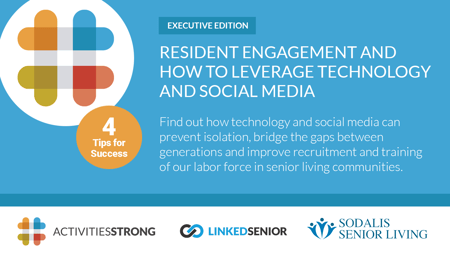 About Linked Senior
Our mission is to enhance life in senior living. We support person-centered care through life enrichment and dementia engagement using simple technology and non drug therapy. Learn more or connect with our team to learn how Linked Senior is a cost effective, ROI-centered service that improves outcomes, helps increase compliance, boosts staff empowerment, lowers turnover and increases job satisfaction and revenue. Get In Touch